Shackleton

---

Country
Federated States
State
New Swabia
Borough
Queen Maud
Founded
12009

---

Government
Mayor-council, socialist commune
– Mayor
TBD

---

Area
– Total
90 sq mi (225 km2)

---

Elevation
TBD

---

Population
– Citizens
1
– Residence
TBA
– Potential
100,000
– Density
?

---

Time zone
Alpha Time Zone (UTC+1)
Shackleton is the name of the proposed capital city of the state of New Swabia. It is located on a fairly sizable oasis in Queen Maud Land, approximately 50 miles south of the Schimacher Oasis, home to several Russian, German, and Indian research facilities.
Concept and Design
Edit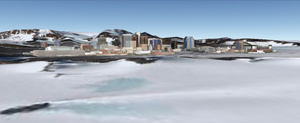 Shackleton is envisioned as a remote outpost in what could be called the "wild west" of Antarctica. It lies in a region that is virtually inaccessible by sea, despite the fact that the proposed town site is only 150 miles from the shore of the Indian Ocean.
Ad blocker interference detected!
Wikia is a free-to-use site that makes money from advertising. We have a modified experience for viewers using ad blockers

Wikia is not accessible if you've made further modifications. Remove the custom ad blocker rule(s) and the page will load as expected.