Hillary is the name of the proposed capital of Polaria. It is named after Sir Edmund Hillary and is situated on a mountain slope overlooking Shackleton Glacier. It is the westernmost city in the Federation, if that measure is determined by the 180th Meridian. The Hillary metro area is unique in that it experiences astronomical polar night. It is also to be located in the world's earliest time zone (UTC-12), which means it is a full 24 hours behind Terra Nova, located only 200 miles to the northwest.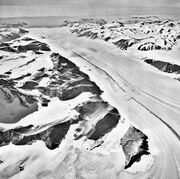 Ad blocker interference detected!
Wikia is a free-to-use site that makes money from advertising. We have a modified experience for viewers using ad blockers

Wikia is not accessible if you've made further modifications. Remove the custom ad blocker rule(s) and the page will load as expected.