Montclair is a city in Nanook Borough, New South Greenland. Ellsworth is a planned arcology community that will serve as the capital of New South Greenland. It is one of two proposed settlements in the icy interior of the Antarctic continent. The oasis that serves as its location offers spectacular views of Vinson Massif, the highest point on the continent. Ellsworth will be built into the face of a mountain in the Ellsworth Range that rises dramatically from the icecap.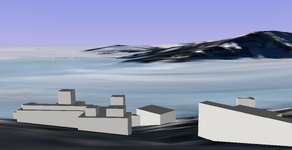 Ad blocker interference detected!
Wikia is a free-to-use site that makes money from advertising. We have a modified experience for viewers using ad blockers

Wikia is not accessible if you've made further modifications. Remove the custom ad blocker rule(s) and the page will load as expected.